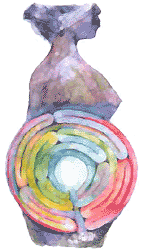 Your Birth Story in the LabOrinth
~ a sharing circle to help you find new meaning in your Birth Story ~
This compassionate, uplifting workshop is a first small step toward healing for mothers who have given birth (no matter how or when) and are looking for a meaningful way to process the details of how it unfolded.  Uniquely and heartFULLy designed, we will share and learn from our birth stories with discussion and mindfully-led introspective exercises.
Bring your journal with you!
from Birthing From Within: BirthStory Medicine
"When thinking about the birth of their child, mothers and fathers often have mixed feelings of joy and grief, guilt, anger or depression. Especially when the baby is healthy, most people discount the importance or validity of a parent's negative feelings about the labor or birth. Left unresolved, negative feelings and beliefs undermine the joy and confidence of parenting, and can negatively affect relationships with partner, baby, friends and work.
If your past birth experience is interfering with your peace of mind or positive anticipation of an upcoming birth, then don't wait. Change the way you feel about your birth in a BirthStory Circle."

Read this article on the Birthing From Within Site:

Testimonials:
"I loved creating my LabOrinth with Lanell! It helped me to work through my previous experience. And now I have a visual reminder of the unpredictable and winding road of birth. No matter where we go, there we are. Lanell's class will help you affirm your sense of self as you embark on your next birthing adventure."  ~  Jordan
~ – ~ – ~ ~ – ~ – ~ ~ – ~ – ~ ~ – ~ – ~ ~ – ~ – ~ ~ – ~ – ~ ~ – ~ – ~ ~ – ~ – ~ ~ – ~ –
"I learned that I do not have to go through the emotional gates of birth emotionally alone this time, as I had done during my previous birth.  I learned to connect with my inner Mama and give myself the same love and compassion that I give to my son.  Not only have I learned that I can rely on dependable friends and partners during my upcoming birth experience, I now feel that I have my own powerful, gentle, wise, heroine inside who will never abandon me, no matter what happens during the birth."  ~ Wendy